Migraine Headache Relief Support Crystal Bracelet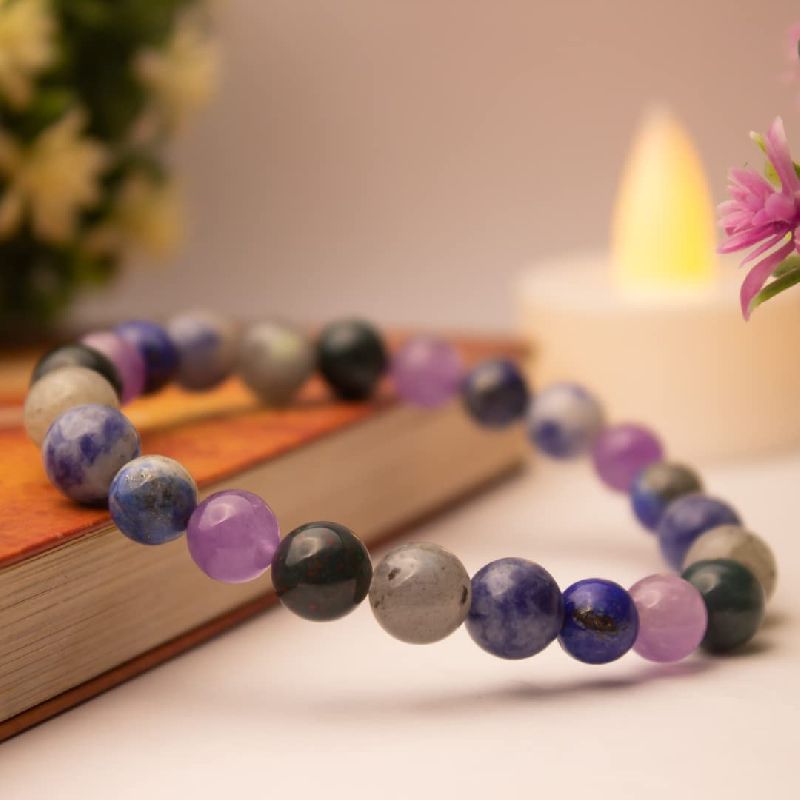 Country of Origin
India
Type
Gemstone Bracelets
Material
Gemstone
Shape
Round
Click to view more
Product Details
Feature
Durable, Shiny Looks
Delivery Time
7 Working Days
Packaging Details
Package Dimensions ‏ : ‎ 10.5 x 10.5 x 4 cm; 150 Grams
Get a Migraine Relief Support Bracelet and release all the pain, stress, tension from your life. The combination of powerful healing stones will help you fight migraine and headache caused pain and also reduce its effects. It will revitalise your mind, boy and spirit with positive, peaceful and calming energy.
Amethyst: Amethyst works as a natural stress reliever that can reduce headaches and pain The stone amplify healing energy and cleanse the surroundings with positive vibrations. It cleanses the aura, relaxes the body, releases tension and anxiety. Its soothing energy can help you fight insomnia and get good sleep. Physically, the purple stone eases the muscles and revives from pain.
Lapis Lazuli: The royal Lapis Lazuli Gemstones eliminate negative energy from the surroundings and transform it into vibrant energy The stone reduces stress, eliminates insomnia and improve emotional stability. It promotes well being by removing all kinds of blockages. It can heal all our physical, mental, emotional & spiritual issues. The enormous energy of crystals also strengthens our intuition.
Sodalite: Sodalite gives peaceful energy that can calm the mind from unnecessary chatter and promote relaxation. The highly energising stone can revitalise the mind, body & soul. It is a great gemstone to strengthen bones & muscles, enhance metabolism and boost immunity. Its highly energising energy can also enhance your personal power and keep you motivated with its positive and nurturing nature.
Labradorite: Labradorite, the stone of transformation, brings positive changes in all aspects of life. It improves physical, mental, emotional health & encourages spiritual growth. The stunning gemstone sparks light that brings positivity, a cheerful mood & a vibrant environment. Labradorite has highly stabilizing energy that can dissolve all the negative energies and heal you from within.
Read More...
Looking for "
Migraine Headache Relief Support Crystal Bracelet

" ?
1 Pc